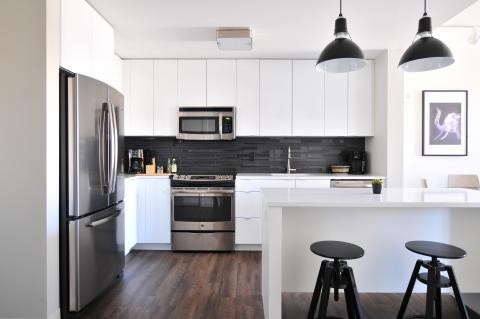 Blog 11: Getting a new kitchen and the electrics
By the way, before you read this, If you are planning a new kitchen, I have AMAZING contacts who can make your dream project a reality, so please message me for their details, it's a pleasure recommending them 😉😉😉.
I want to discuss some of the musts (in my opinion) when you are having a new kitchen installed. A new kitchen costs thousands of pounds. My biggest costing project I have personally been involved in cost the customer a grand total of around £70,000 for her kitchen to be supplied and installed (it was beautiful by the way!)
But before I get too side tracked, here are some of the key things to consider
Lighting- Yes, you want a decent lighting output in this room, but one thing that's a must is lighting under the cupboards to light up the worktop. Once I had this lighting in my kitchen, there is no way I will be without it!
Even if you do not want it now, get your electrician to install a cable ready if you do want it in the future. Retrofitting this lighting to a completed kitchen and concealing the cables from view is a NIGHTMARE!
Socket outlets- (Do remember this is my opinion). Having the right amount of socket outlets is crucial, but how many you have installed above your kitchen worktops can be an eye sore! Spend a moment of your time actually thinking where your toaster is going to sit and which corner the microwave is going in and get the exact number spot on.
For the likes of your washing machine and your dishwashers, have your electrician install socket outlets inside adjacent cupboards. Switch fuse spurs worktop heights look out of place!
The more you can hide the accessories, the more you can enjoy your lovely splashback or tiles!
Light switch positions- Have a think on where you want your light switches positioned (my rule is one by each entrance/exit for main walkway lighting and a single position for local lighting (under cabinet/cupboard lighting etc)